Expectations
Post 16 Code of Conduct
The Post 16 Centre starts with a silent start and end to the day with silent 1 and silent 5. During these periods students are required to work in silence without any use of their mobile phone.
Outside of silent 1 and 5 students are expected to keep noise to a minimum to ensure that everyone can still work productively. The common room during periods 2-4 is available for students to use. There are two conference spaces available for students to book. The library is available at all times. 
Students are able to access laptops from to Mr. Campbell-Julian. Laptops must be treated with respect and any damage will result in students being required to pay for any costs due.
Home Study
For students to be considered for home study the below expectations must be met. 
Above 96% attendance.
No more than 5 lates during a term.
No more than 6 behaviour points during a term.
No academic concerns raised.
Post 16 Dress Code Expectations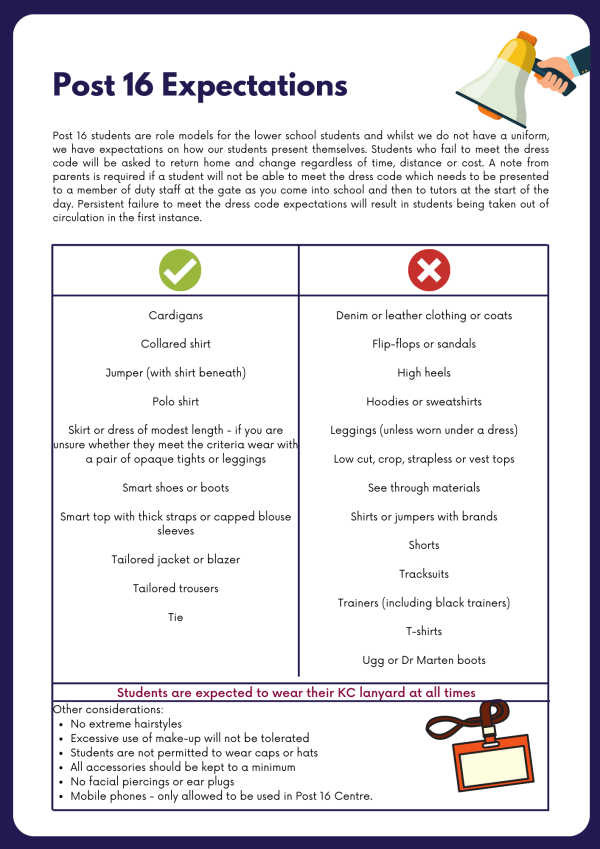 Non-Negotiables 
Arrive to KC and to all lessons on time
Have an attendance of above 96%
Adhere to the Post 16 Dress Code
Adhere to the Post 16 Centre Code of Conduct
Complete all homework and meet coursework deadlines
Show a positive attitude to learning
Students who comply to these non-negotiables will be rewarded with Home Study at set times in the academic year.