Destinations
We are incredibly proud of the success our students have had.
Post 16 students at Kingsthorpe College celebrated success this year as they achieved some outstanding Key Stage 5 results – living proof that students at Kingsthorpe College really do dream big, work hard, and stay humble. Although there was a heightened sense of anxiety upon receiving their results, we are really pleased that every student secured their first choice university offer – a just reward for two years of dedication and hard work.
Many students celebrated excellent individual performances, as our diverse and personalised curriculum continues to enable students to achieve the qualifications required to allow them to move on to the next stage of their journey.
We also believe in transparency about our strengths and areas for development. Full details of our performance data can be found here.
For example: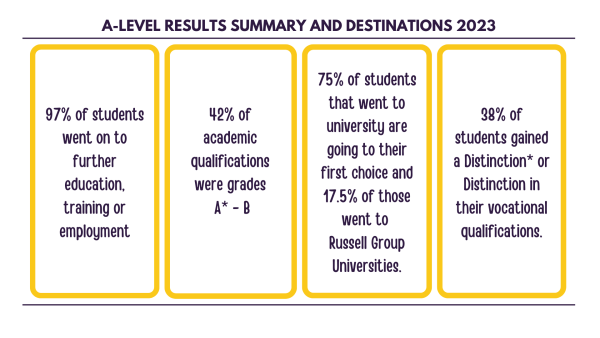 Sharan Matharu, Headteacher, said: "We are incredibly proud of the class of 2023. Their results are a testament to their hard work and commitment. In a year when grades reverted back to pre- covid levels our students have excelled.  Our results show incredible improvements from 2019 -2023 at Post 16 42% of students achieved grade A*B.
I would like to thank staff and parents for the unwavering support they offer to our students and wish the class of 2023 all the best in the future". 
 
Briony de-Wit, Strategic Lead for Key Stage 5 said: "We are thrilled that the aspiration, commitment, and resilience of our students has culminated in an excellent set of results. This year group have been significantly impacted by Covid, however their drive for success has never faltered. We are delighted with the student successes this summer which further demonstrate the sustained improvements we are making as a College. We wish all our students the very best for the future."